The High Road Merges Diverse Interests Into Broad Solutions
Taking the High Road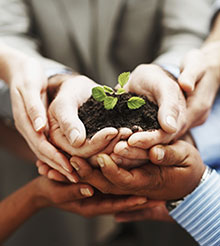 High Road Strategies, LLC is an industrial, economic and energy policy research, analysis, assessment and design consultancy.  We specialize in advancing public policies and industrial strategies that promote the goals of:
Sustainable economic growth and industrial competitiveness
Energy security and environmental protection
A skilled, well-trained workforce with family supporting incomes.
This is in sharp contrast to traditional or "low-road" economic and business strategies: those that presume economic objectives must be at odds with environmental, workforce development, and other social goals.
High Road Services
High Road Strategies offers many services and products, which can be tailored to suit each client's requirements. These include:
Needs assessment, problem definition and project development
Empirically-based research and analysis of policy impacts and options (i.e., evaluating risks and opportunities of policy alternatives)
Analysis of national and regional economic, industrial and technological trends
Sectoral studies, including industrial and work-organization analyses
Policy and strategic guidance and expert consulting
Policy and legislative recommendations
Reports, white papers and briefings
Presentations for conferences, workshops and panels
Our Approach
We take a unique approach to complex policy issues: a collaborative process combined with innovative analysis to produce High Road Solutions.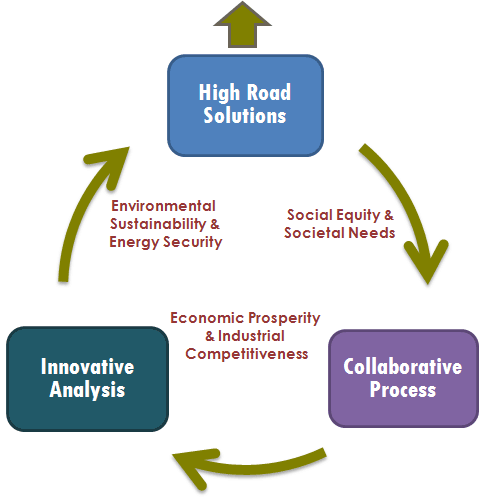 Collaborative Process
Actively engaging the participation of diverse stakeholders. These may include labor, business, environmental and public interest groups, communities, and government, whose views and interests regarding critical public policy (e.g., energy and climate) may not always align. The goal is to clarify and define problems so they are amenable to research and analysis. Ultimately this paves the way to policy solutions based on areas of common interest and agreement.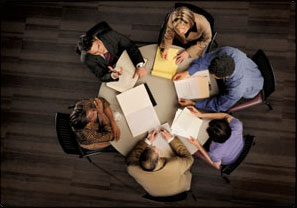 Innovative Analysis
Quantitative and qualitative research and analytical tools applied to the evaluation of economic, industrial, technological, energy and environmental policy issues. When appropriate to the scale and scope of a problem, we apply a variety of analytical tools, from simple input-output analysis to system dynamics modeling. This enables highly flexible, empirically-based dynamic evaluation of economic systems – to gauge behavior in response to alternative policy scenarios.
High Road Solutions
Our services are designed to provide empirically-grounded guidance to policymakers. This insures they can identify policies and strategies that are realistic in meeting the economic interests of multiple stakeholders, while also achieving critical public goals.
The High Road Process
High Road Strategies can apply a wide range of analytical and modeling tools and methods to research, analyze, and develop policy alternatives for complex policy problems, to produce a variety of results, outcomes & products.
Results, Outcomes & Products
Policy and legislative recommendations
Reports, briefing papers, whitepapers & published articles
Policy and strategic guidance and expert advice
Presentations and briefings
Conferences, workshops and panels
Research Analysis & Development
Policy Analysis & Development

Needs assessment & project definition

Assess client concerns & needs
Engage stakeholders to gauge concerns, interests & proposals
Identify policy and strategic options
Scopes of work & proposals

Analysis of policy impacts and options

Economic impacts of policy options
Measures to mitigate impacts
Opportunities & benefits
Technology options & policies

Sectoral Studies

National & regional industrial trends
Industry case studies
Workforce and community adjustment
Analysis of regional industry clusters
Policy Clusters
Energy, Climate Change & the Economy

Energy, climate change and manufacturing competitiveness
Clean energy manufacturing
Green economic development
Green technology opportunities
Industrial retention & conversion
Green jobs and employment

Industrial Competitiveness

Manufacturing revitalization & international markets
Manufacturing & national security
Innovation, productivity and technological change
Supply chain strategies
Labor markets & workforce development
High performance work organization initiatives
Analytical Tools & Methods
Qualitative and statistical analyses of national, regional, and industrial economic patterns
System dynamics modeling of industrial and regional energy-economic-technical systems
Logic modeling-based industrial and work organization case studies
Regional input-output models