Ohio University (OU), Athens, Ohio
The Ohio State University (OSU), Columbus, OH
In April 2010, through a competitive process, Ohio University (OU) and The Ohio State University (OSU) were awarded $500,000 through the American Recovery and Reinvestment Act State Energy Program to develop a climate change plan and impact analysis to prepare Ohio communities and businesses for federal climate change policies. The contract was administered by the Ohio Department of Development, jointly with the Ohio Environmental Protection Agency. The project's work plan included the following:
a statewide inventory of greenhouse gas emissions
an assessment of the opportunities and risks for Ohio's industries
recommendations for an Ohio Climate Change Plan
development of an energy-economic policy modeling tool to analyze impacts from climate change policies and scenarios in reducing greenhouse gas emissions
High Road Strategies was a member of the project team headed by the two Ohio universities, which also included the Millennium Institute, of Arlington, VA and Thompson Hine LLP, of Washington, DC. It was responsible for carrying out two tasks in the overall project:
a comprehensive assessment of the risks and opportunities of greenhouse gas policies for Ohio manufacturing sector, with a special focus on the impact on the state's energy intensive industries.
consultation, data collection and other assistance in the development of energy-intensive industry modeling modules for the state-wide energy-economic modeling tool being developed by the project.
The High Road Strategies report, Risks and Opportunities for Ohio's Manufacturing Sector in a Carbon-Constrained World, was incorporated into a final, overall project report, which was submitted to the State agencies administering the project in the Fall of 2011. Its goal was to identify and evaluate the risks and opportunities associated with climate and clean energy policies, and the implications for Ohio's economy, in particular, with its manufacturing sector. Specifically, the report: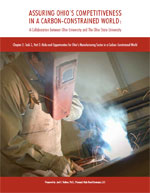 Provides an overview and profile of Ohio's manufacturing sector, summarizing both its economic and energy and emissions characteristics.
Identifies the manufacturing industries most likely to be economically vulnerable to carbon constraining policies, especially energy-intensive trade-exposed (EITE) industries, which are both heavily reliant on fossil fuel energy sources and highly sensitive to global competition.Risks and Opportunities for Ohio's Manufacturing Sector in a Carbon-Constrained World
Report (Chapter 2) (pdf)
Conducts a preliminary assessment of the potential economic impacts of federal and regional GHG emissions mitigation policies—including the U.S. Environmental Protection Agency's GHG regulatory initiative—on Ohio's manufacturing sector, especially its EITE industries.
Explores a range of options and opportunities for promoting manufacturing growth and competitiveness in Ohio associated with enactment of climate and clean energy policies, at both the federal and state levels. These include energy-efficiency and carbon abatement opportunities that could result in significant energy savings for Ohio's EITE manufacturing industries, and the policy options—technology innovation, investment, tax, financing, and technical assistance, among others—that could enable them to realize these gains.
This is the second chapter in the full report produced by the OU-OSU team, Assuring Ohio's Competitiveness in a Carbon-Constrained World. Other chapters include: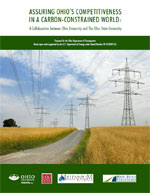 Executive Summary
(pdf)
Cover Materials & Contents
(pdf)
A review of U.S. climate change policies;
A review of carbon offset opportunities in forestry and agriculture;
Geologic carbon capture and sequestration (CCS) opportunities;
Current and potential renewable energy resources;
Business growth opportunities resulting from climate policies, policy considerations for an Ohio climate change plan;
A statewide emissions inventory, and
Development of a two-tiered economic analysis of Ohio based upon energy-economic policy modeling, using System Dynamics.
Visit the project website for more information and downloads of one or more of these chapters http://www.ohioenergyresources.com.