High Road Strategies was the principal researcher, contributor and author of a primer produced by the AFL-CIO Working for America Institute (WAI), Working for Industrial Energy Efficiency, released late Fall 2012, that will be distributed widely in the labor community.   The purpose of this brochure is to provide labor leaders and rank-and-file union members an accessible and easy to read overview of industrial energy efficiency (IEE), and explain how IEE can in help U.S. industry become globally competitive and create and retain good jobs for America, while reducing its carbon footprint.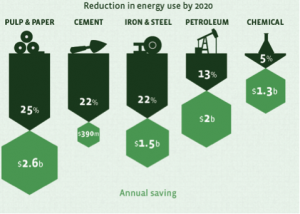 Specifically, the primer explains with IEE matters to labor unions and workers and how energy is used in manufacturing and how savings can be made—with a special focus on CHP and waste heat recovery.  It also notes which industries benefit the most in adopting IEE measures, with examples of companies that have successfully achieved significant energy savings, such as Flambeau River Papers, ArcelorMittal, Dow Chemical and Proctor & Gamble.  It then identifies the barriers and obstacles that many manufacturers face in making the "business case" for investing in IEEE, how workers can help manufacturers achieve energy savings and overcome these barriers, and finally, a list of tools

and resources (e.g., financial assistance, technical assistance, software tools, R&D and technology innovation, and references) available in the public sphere that can provide information and guidance in IEE.
Other organizations that contributed to this document or provided design and publication services include the AFL-CIO, Environmental Defense Fund, and Projects by Chi/Donahoe+Cole/Duffey.